2021 Competitive Strategy Leadership Award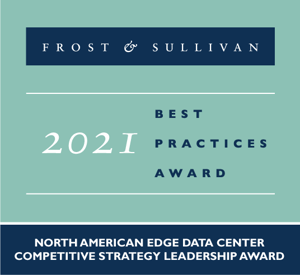 Based on its recent analysis of the North American Edge Data Center Industry, Frost & Sullivan recognizes EdgeConneX with the 2021 Frost & Sullivan Competitive Strategy Leadership Award for building pioneering and effective data centers that support next-generation technology.
"[EdgeConneX] works closely with customers to place the data centers in the best location and provides custom-tailored data center solutions that extract off-the-shelf data center capacity. Frost & Sullivan notes that EdgeConneX extends its capabilities to support the customers' digital edge journey."
-Ruman Ahmed
Best Practices Research Analyst
WHAT'S IN THE REPORT?
EdgeConneX stands out due to its ability to draw from its extensive expertise to deliver solutions that add value to customers' businesses by addressing specific pain points.
The company gives utmost importance to clients and vigilantly solves their problems.
The fundamental problem that customers face is twofold: one is performance, and the other is cost.
EdgeConneX ensures that it maintains a high degree of experience and quality of service expected by the end-user. Its unique distributed architecture significantly reduces the total cost of ownership on various applications and workloads.
EdgeConneX has provided the edge to customers by designing and building data centers that support next-generation technology. The company is well-positioned as it empowers customers to handle the end-to-end management of the digital infrastructure by integrating automation, interconnection capabilities, and continuous innovation with the edge.